Messi scored the first goal in the new year, and the number of goals in the five leagues equalled that of Ronaldo! Luo was ridiculed by netizens: more than 87 games played by 2 years old and more than 100 assists shared
In the 18th round of the French Bundesliga, Paris defeated Anger 2-0, and Ekitic opened the record, while Messi locked the victory. Messi returned from the World Cup and scored the first goal in 2023. He scored goals in the club for 19 consecutive years. The number of 696 goals in 832 matches in five major leagues equalled Ronaldo.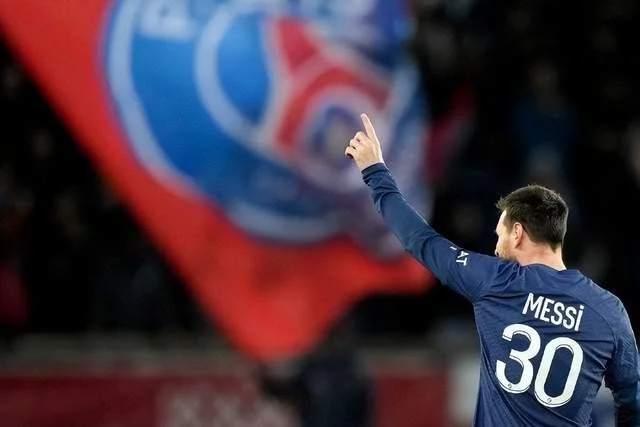 Image source: Migu Football
Data of both parties:
Messi: 696 goals in 832 games (672 in Barcelona and 24 in Paris), with an average of 98 minutes
Ronaldo: 696 goals in 919 games (145 for Manchester United, 450 for Real Madrid and 101 for Juventus), with an average of 109 minutes
According to the official statistics of Paris Saint-Germain, Messi has scored 8 goals and 10 assists in 18 French league matches this season, directly participating in 18 goals.
Messi has scored 24 goals, assisted 28 times and directly participated in 52 goals in 54 matches in various competitions since he joined Paris.
Lionel Messi scored a goal. Naturally, some fans will continue to compare him with Ronaldo. As for the record contest between Messi and Ronaldo, some fans said: "Messi has the hope to catch up with all the records of Ronaldo's lead, but Messi's record Ronaldo may never have the chance to chase it again!"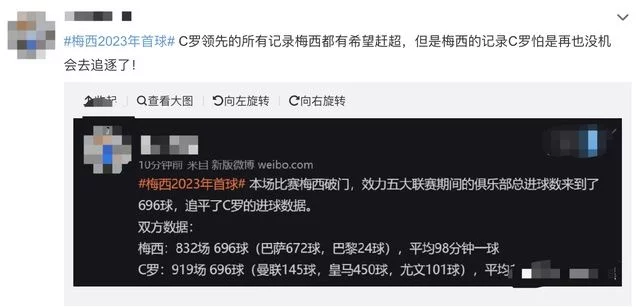 Messi and Ronaldo fans have also launched a heated debate on the Internet around the number of games Messi and Ronaldo used to reach 696 goals, the number of assists of two people, and the honor of the players themselves.


[Source: Jiupai News Comprehensive Migu Football, Live Bar, netizen comments]
Statement: The copyright of this article belongs to the original author. If there is any source error or infringement of your legal rights and interests, you can contact us through email, and we will deal with it in a timely manner. e-mail address: jpbl@jp.jiupainews.com
(Visited 3 times, 1 visits today)