Ronaldo arrived in Saudi Arabia to receive cheers from thousands of people. It's crazy that he said, "If the coach agrees, I can play tomorrow."
Jimu Journalist Chen Lingyan
Whether you like it or not, Ronaldo still proves his powerful influence. On January 3 local time, Ronaldo arrived in Saudi Arabia and made a grand appearance at Al-Nassr FC Club. In the face of the warm response from the local fans and teammates, President Ba was in a good mood. He said: "As long as the coach agrees, I can play tomorrow."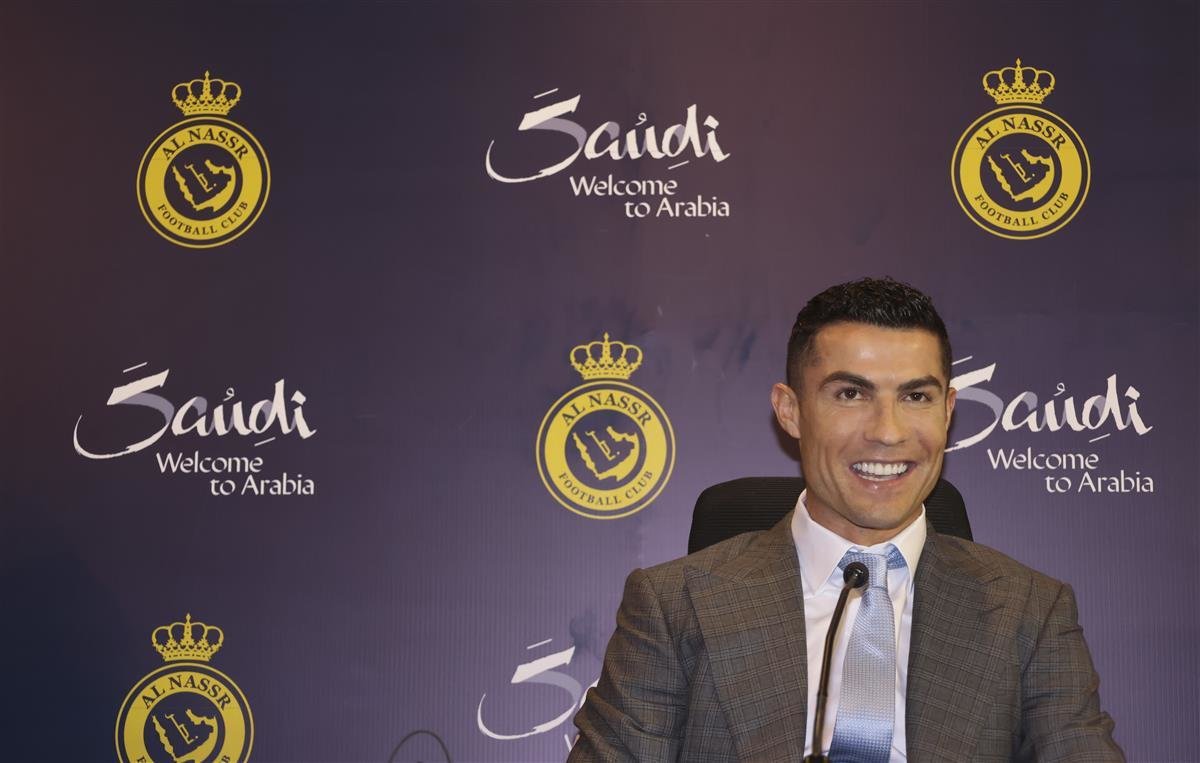 Open Phoenix News to view more HD pictures
Ronaldo at the press conference
People haven't arrived yet. Fans are crazy
The Al-Nassr FC Club had a game on January 1. Although Ronaldo was only officially announced to sign the contract at that time, the fans at the scene had already put on Ronaldo's No. 7 shirt. According to local media reports, at the match site, fans once shouted Ronaldo's name and greeted him every other time. According to statistics, the official account of Al-Nassr FC increased by 10000 every 20 seconds after the official announced the joining of Ronaldo. On the official website of Al-Nassr FC, 140000 fans scrambled to buy tickets for Ronaldo's debut ceremony.
Al-Nassr FC Club, founded on October 24, 1955, is one of the teams in Saudi Arabia Football Super League. In addition to Ronaldo, there are Vincent Abubakar from Cameroon, Taliska and Gustavo from Brazil, Gonzalo Martinez from Argentina, Alvaro Gonzalez from Spain, and David Ospina from Colombia in the team. It was also reported that 8 of the 12 coaching staff members of Al-Nassr FC Club were from Portugal.
Ronaldo is undoubtedly the most valuable star. However, his influence is still huge, judging from the crazy popularity he caused from the official announcement of signing the contract. As Ronaldo said after arriving at the local place, "People didn't know about the Al-Nassr FC before, but now they know it."
The industry also believes that Ronaldo will most likely become the spokesman for Saudi Arabia's bid to host the 2030 World Cup.
Dominate the General Manager and deny the theory of high salary pension
On the evening of January 3 local time, Luo and his family arrived in Riyadh, Saudi capital, by private plane. At the opening ceremony of the stadium, he received cheers from 10000 fans.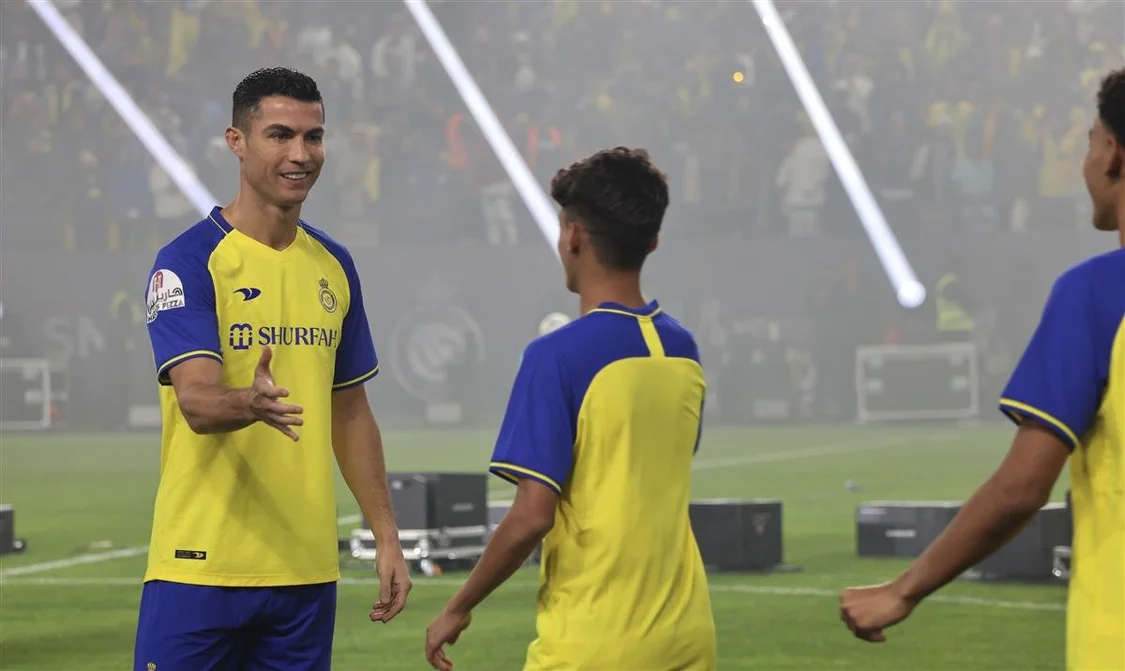 Ronaldo interacted with the young players at the welcome ceremony
Then at the press conference, Cristiano Ronaldo said: "I have won everything. I have played for the best team in Europe. Now I have new challenges. I have broken all the records in Europe, and I hope I will break some records here. I am eager to have the opportunity to try myself in a different country and in a new league. I am happy to join, and I hope to help the team achieve more." He smiled, as long as the coach allows, He can even play tomorrow.
He also said that many clubs wanted to sign him, including Brazil, Australia and many European clubs including Portugal, but he chose to come to Saudi Arabia. He said passionately that he was willing to help here, "to give it a chance to develop football and develop all the amazing places in this country." Ronaldo said that great changes have taken place in the world football in the last 10 to 15 years. In this World Cup, the only team that defeated Argentina is Saudi Arabia, and some African teams have also performed amazingly. He also said: "At present, I feel very good, and I am proud to have made this important decision in my life."
As for those who think that he is coming to earn money for retirement and will end his career in Saudi Arabia, Luo responded: "I am not here for retirement, and I don't care what others say. Saudi Arabia is not the end of my career."
Previously, Ronaldo was suspended for two games for violating the regulations of the Football Association of England, and he probably missed the two games on January 5 and January 15. Then the game of Al-Nassr FC victory against Iman Yitifak on January 20, Beijing time, was probably his first appearance in the local area.
Love is always here, and all walks of life wish C Luo well
After Ronaldo officially announced his joining, FIFA International Football and UEFA European Cup all released the news on the official social platform and expressed their wishes to Ronaldo, such as "legend will never die, wish Ronaldo good luck".
The Portuguese national team also sent him congratulations: "A new adventure, go ahead, captain!"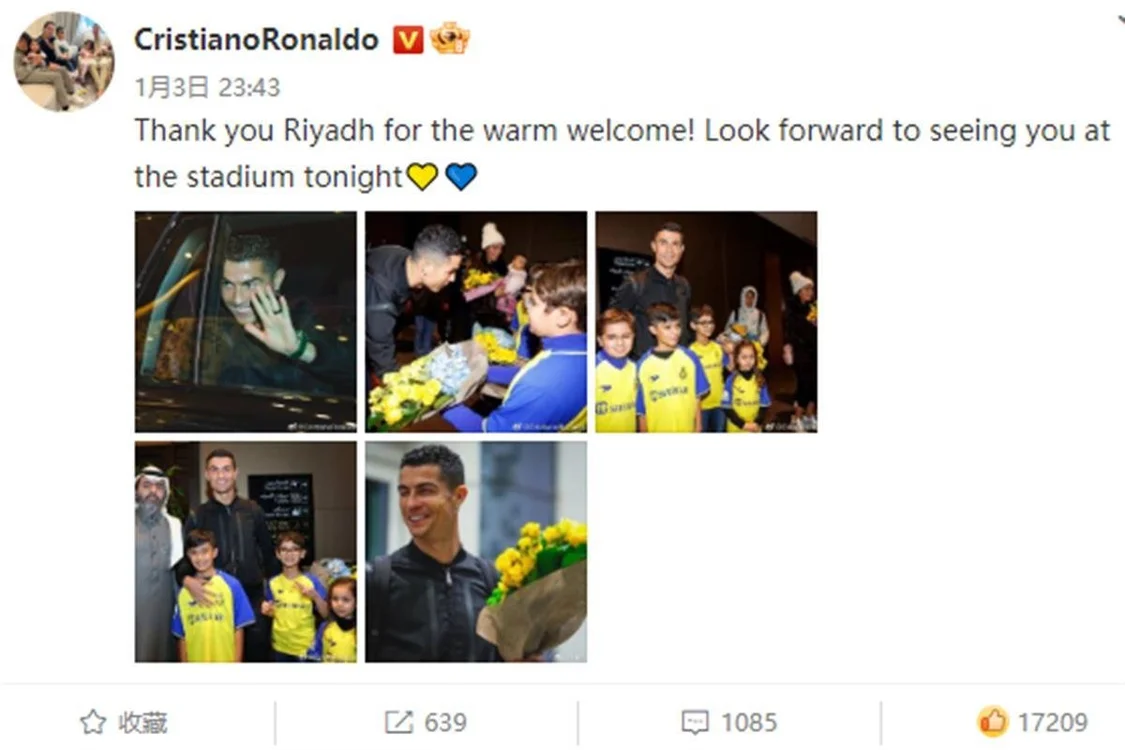 Luo expresses his joy on the social platform
Luo is also in a good mood. He has updated his social platform one after another. When he left, he wrote: "Thanks for the warm welcome from Riyadh! I look forward to seeing you in the stadium tonight." After the welcoming ceremony, he wrote: "Fans are really great! Now let's start our work!"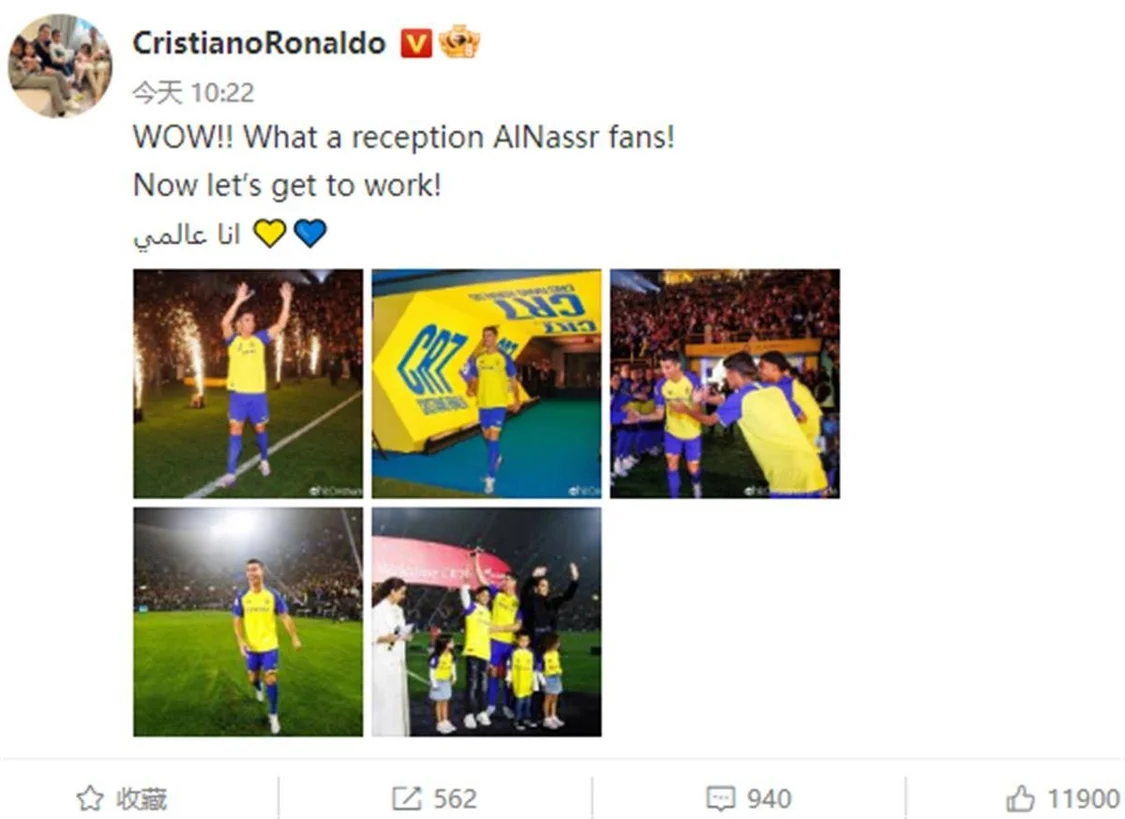 Luo expresses his joy on the social platform
The fans in the comment area are more excited. Many people wish Ronaldo to start a new journey, and some people pay attention to how Ronaldo will perform in his debut. Some people also believe that with Cristiano Ronaldo's good condition and strict self-management ability, "at 37, he still has such a handsome appearance and strong physique, and he can be competent for anything in the football field."
(Source: Jimu News)
(Visited 1 times, 1 visits today)