Ball stars also need military advisers! Ronaldo fell out with his agent Mendez. It was a pity to go to Saudi Arabia
Reporter Yin Chengjun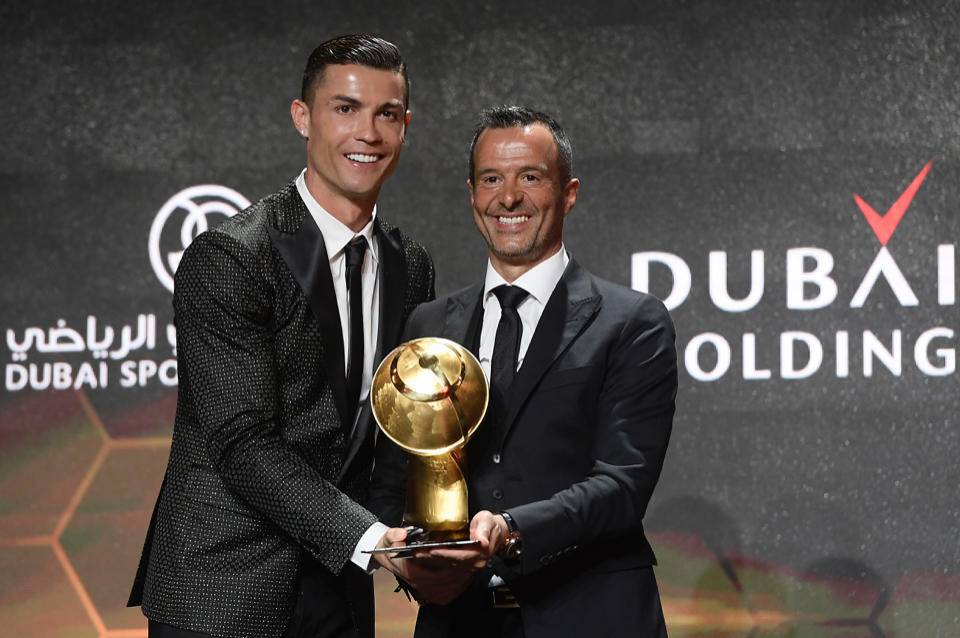 In the early morning of the 4th Beijing time, Ronaldo officially appeared at the Al-Nassr FC Victory Club in Saudi Arabia, marking the end of the "serial" of the world football superstar's transfer. It can be said that in this transfer, Ronaldo made a lot of money, but he lost one of the most important partners in his career, that is, his agent Mendes.
Ronaldo and Mendes parted ways when he failed to seek a transfer this summer, and this time when he came to Asia, Ronaldo basically left behind the European football world on which he became famous. It can be said that without the help of Mendes, it would be more difficult for him to return to European football.
Can a football agent have so much energy? Yes, the more famous the stars are, the more they depend on excellent agents. Without them, the brilliance and future of the stars will be greatly reduced.
Eyesight
Mendes likes Ronaldo
In European football circles, players' agents are an indispensable part. With the approval of FIFA, they recommend players to the club, help sign and renew contracts, and earn commissions.
A football agent needs to have an extraordinary vision to discover a player's potential and sign him under his own banner. From then on, he has become a professional planner of the player, even a lifelong friend, to help him climb higher mountains through transfer.
Ronaldo's former agent Mendes is the best of them.
Mendes is Portuguese like Ronaldo. At the beginning of this century, Portuguese football began to move towards the golden age. As a football agent, Mendes welcomed his own spring.
Although Mendes was a player when he was young, his flexibility of mind and keen vision were obviously far better than his feet. Before Portuguese football started to take off in 2004, he signed Ronaldo and Mourinho, two people destined to change the world football world, under his own banner as agents, to help them deal with transfer matters and obtain commercial benefits.
In 2003, Mendes successfully transferred Ronaldo from Sporting Lisbon to Manchester United at that time, and earned the first high commission, which can be said to be both fame and wealth. In 2004, he sent Porto's coach Jose Mourinho, who had just won the Champions League, to the negotiating table of Chelsea's top management, thus starting his brilliant career.
These two successful transfer cases made Mendes famous. Soon, his team was full of superstars. Pepe, Diego Costa, Falcao, J. Lo and Di Maria all transferred to their favorite club through Mendes at the sky high price at that time. During the transfer process, Mendes maintained good relations with Manchester United, Chelsea and Real Madrid and achieved a win-win situation.
All the players under his control have trusted him very much, and even gave him their entire career, among which Ronaldo is one. They have been working together for 20 years since they first met in 2002 and broke up last year.
After staying at Manchester United until 2009, Mendes operated Ronaldo to transfer to Real Madrid for 96 million euros, and then transferred to Juventus for 100 million euros in 2018. In 2021, Ronaldo, who has spent enough time in Serie A, wants to return to Manchester United. Mendes tries his best to impress the top management of the "Red Devils" and Ronaldo returns.
But last summer Cristiano Ronaldo once again sought a transfer, and Mendes had no result when he traveled all over Europe. The perfect cooperation between the two began to crack.
Before the World Cup in November last year, Ronaldo was interviewed to bombard Manchester United and Tenghage. Mendes, who knew nothing of it, was very angry. He thought that this was not rational enough and destroyed his friendship with Manchester United. Therefore, the cooperation between the two ended.
Without the help of Mendes and the growth of his own age, Ronaldo could not have a foothold in Europe. Therefore, with the help of his personal assistant Regafi, he finally signed a contract with the Saudi Club, which was considered as a major event in his career in the new year.
Of course, Mendes doesn't mind losing customers like Ronaldo. His vision is one of the best in European football. At present, he has signed a contract with Portuguese rookie Ramos, who defeated Switzerland in the World Cup. This rookie is originally known as "Little Ronaldo", and can completely fill Mendes' shortcomings.
People
Make intimate friends with players
If you want to be the best football agent in Europe, you must have the broadest human resources. He should not only have the best football stars in his hands, but also be able to fight with the top clubs, and easily mediate between players and clubs. Raiola is one of them.
In the eyes of fans, Raiola is no less famous than any world-class superstar. Like Mendes, he also has a large number of excellent players in the hands of Raiola, and his characteristic is to strive for the best interests for the players, so he has accumulated incomparable contacts in the long-term operation.
Although the players are nominally the employers of agents, they are in fact equal cooperative relations, with both prosperity and loss. Raiola regards each player as his friend, helps them maximize their rights and interests, and does not hesitate to offend the club.
Since 1992, Raiola has been engaged in the brokerage industry, through which the older generation of superstars Bergkamp and Nedved realized their dream of being a big family. In 2016, Pogba transferred to Manchester United with 105 million euros, from which Laiola received a huge commission of 25 million euros, realizing a win-win situation for himself and the players.
Under his banner, there are also international players such as Ibrahimovic, Balotelli, Donaruma, Harvey Simmons, Derihet and Villatti. When Balotelli's house caught fire, he did not call the police at the first time, but called Raiola. It can be seen that he was very close to the players.
In recent years, Raiola has possessed a "super weapon" that can compete with all the football agents in the world, that is, Harland. He first operated Harland's transfer from Salzburg to Dortmund, but in April last year, when he was preparing to operate Harland's transfer to Manchester City, he suddenly died of illness at the age of 54.
To accumulate contacts, one must dive deep into the heart and work carefully to achieve something. Among the agents in European football, there are a group of agents who have taken root in their own leagues and managed their own acreage clearly, accumulating only their own contacts.
This is true of Alessandro Lucci of Italy, for example. He has deep cooperation with major Serie A clubs such as Juventus, AC Milan, Inter Milan and Rome, and his signed players also cover Serie A venues, such as Bonucci, Florence, Kulusevsky, Costic, etc.
Strut is deeply involved in the Bundesliga, and has a large number of German players, such as Royce, Gerzer, Cross, Hervedes, Jules, and so on, who are all right in the German transfer market.
Barnett of Britain is the highest paid gold medal broker. In 2021, his commission reached 120 million euros, helping his players sign contracts worth 1.1 billion euros. This is not only due to the fact that the Premier League is the richest football market in the world, but also because he and his team are willing to earn more money for players, so that more and more players can change their ways and go to his door.
Charm
The female agent is also good
In the field of male dominated football agents, are there any outstanding female agents who have made extraordinary achievements? The answer is yes. In the world football world, there really is such a woman agent who has played an important role in the transfer market with her unique charm.
In April 2022, the most famous broker, Laiola, died suddenly. In his will, his agency did not leave his two sons, but gave them to his partner, Pimenta, a female lawyer from Brazil.
In the early years, Pimenta and Raiola met in a charity football match, and began cooperation in the field of football transfer. It can be said that the reason why Laiola has the current status is inseparable from Pimenta's support behind.
After the death of Raiola, Pimenta took over all his players' affairs, including Harland.
At that time, many other agents saw the opportunity and wanted to take the opportunity to persuade Harland to switch to their own company. Pimenta used her unique charm to resolve the crisis, and did not disappoint Laiola's hope. They worked hard to finalize Harland's transfer from Dortmund to Manchester City, which stabilized the morale of the military and set an example for other players.
As a female agent, Pimenta, who is nearly 60 years old, has a unique advantage in football. She has affinity and firm position, and she is elegant and good at communicating with players, which has left an indelible good impression on the players and the club.
Kinship
Just leave your future to your parents
There is also a group of players who, before becoming famous, did not hire a professional agent, but gave their future to the people they most depended on – their parents. Messi is under the guidance of his father, step by step towards glory.
Messi's world is very simple. His wife was the first love she knew when she was nine years old. His father, Jorge Messi, took care of his personal affairs. He just needs to bury his head and concentrate on playing football.
Messi's growth history has been widely spread in the past 20 years. In this inspirational story, the most important person in his life is his father. When Messi was a child, his family was poor. Although he played well, he suffered from growth hormone deficiency. Jorge Messi took his son everywhere to seek medical advice and help from people of insight.
In 2000, Jorge met with Barcelona's sports director in charge of transfer affairs, Reg Sacci, in a restaurant. The latter used napkins to write down the commitment letter that the club intended to sign Messi. From then on, Messi went to the highest stage in the world football, and his father began to act as his son's agent full-time.
For more than 20 years, although Messi has only been transferred once, his contract renewal negotiations at Barcelona have been completed by Jorge. Although Messi also has his own professional brokerage team after becoming famous, Jorge is still the person who makes suggestions for Messi.
Yom Bape of Messi's Grand Brigade gave his future to his mother.
Last May, as an agent, Mbape's mother went to Madrid to negotiate with Real Madrid, hoping that Mbape would have 100% of the portrait right after his transfer. Real Madrid refused to accept the transfer because they felt it was against the club's tradition. Great Bali took the opportunity to promise him a lot of privileges, including 100% portrait right, and Mbape finally stayed to renew his contract.
Although European football circles always describe Mbape's mother as a "greedy middle-aged woman", any mother in the world is willing to strive for the greatest happiness and rights for her children, which is understandable within the scope of law and morality.
During the Qatar World Cup, FIFA issued the latest regulations on brokers to further regulate the transfer and signing operations.
For example, parents who act as brokers must obtain qualification certificates; The agent's commission shall not exceed 10% of the transfer fee, and the agent shall not act for the player, buyer and seller at the same time. All these are to restrict super agents and make the transfer market more standardized and supervised.
(Visited 1 times, 1 visits today)