Ronaldo responded to "five consecutive World Cup goals": I am the first. Am I proud to learn it
[Global Network Report] On November 25, Beijing time, Portugal beat Ghana 3-2 in the first round of Group H of the 2022 World Cup, winning a thrilling start. Among them, the penalty kick of Portuguese star Cristiano Ronaldo also made him the first player to score in the five consecutive Men's World Cup. According to the BBC, Ronaldo said after the match that it made him very proud.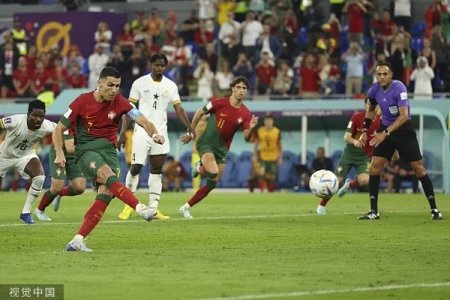 According to reports, after the game, Cristiano Ronaldo said it was a beautiful moment. "We won and started well. It was a very important victory." "I was the first player to score in the five World Cups, which made me very proud." Cristiano said.
CNN said that Ronaldo didn't say much at the media meeting after the game, and he smiled when he walked into the conference. When asked about his announcement of leaving Manchester United and his record achievement in the game, he answered the question briefly in Portuguese. CNN said that a reporter estimated that Luo stayed in his room for only two minutes.
For Ronaldo, who is 37 years old, this may be his "last dance" in the World Cup. This is the fifth World Cup in which Ronaldo participated. When he sang the national anthem before the game, his eyes were filled with tears.
On the 22nd local time, Manchester United Football Club officially announced that Portuguese star Cristiano Ronaldo had officially left the club after negotiating with the club. Ronaldo has therefore become one of the only two free players in this World Cup, and the other is Uruguay's Suarez. Ronaldo also made a statement on his personal social media: "After communicating with Manchester United, we decided to terminate the contract ahead of time. I love Manchester United and the fans there, which will never change. However, I think it is time to seek new challenges. I wish the team success this season and in the future."
(Source: www.global.com)
(Visited 1 times, 1 visits today)