On his 38th birthday, James scored 47 points and the Lakers won. He told the NBA that he was still young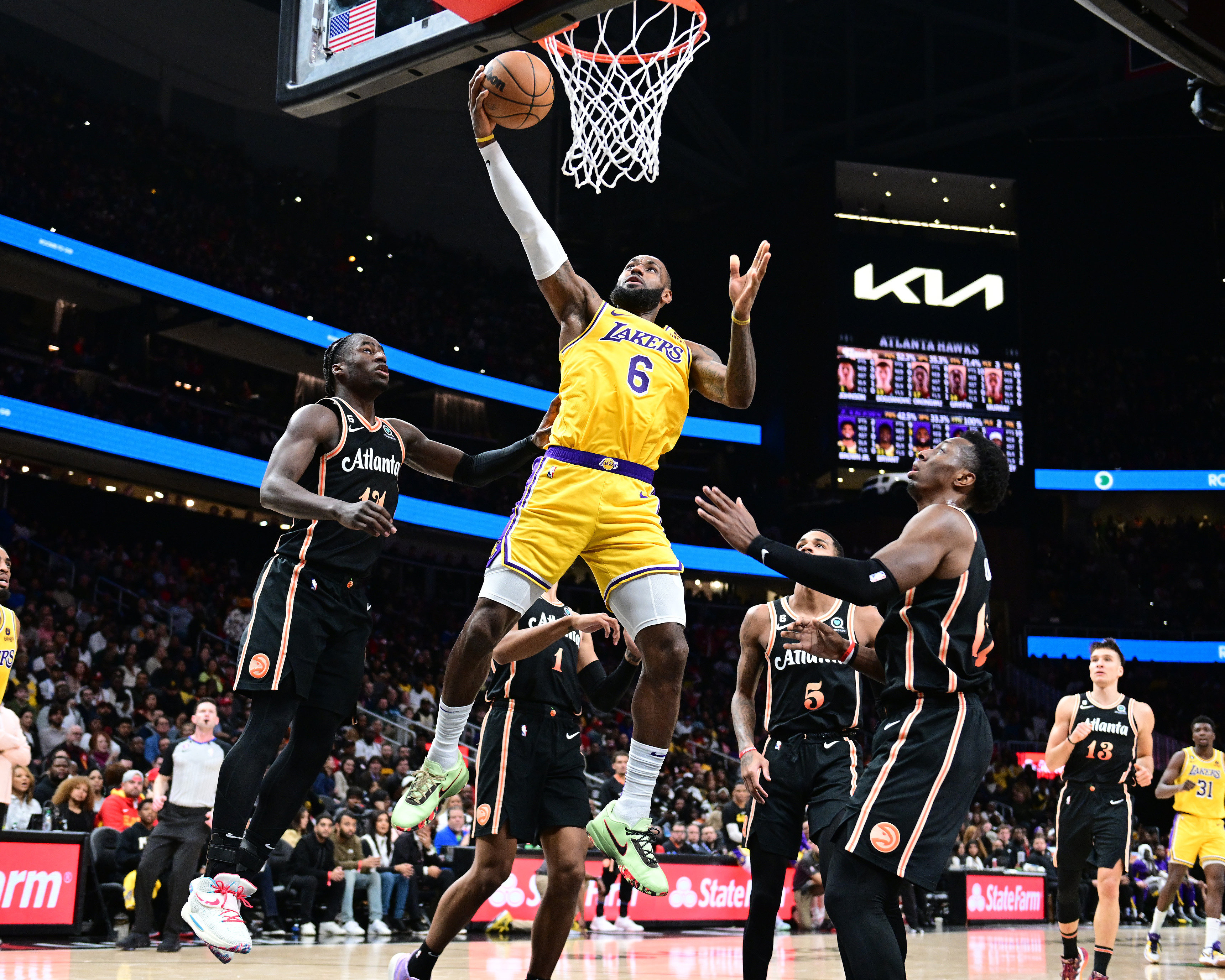 Open Phoenix News to view more HD pictures
James (No. 6) scored a layup in the game. Figure/Visual China
Beijing News (Reporter Xu Bangyin) On December 31, the 2022-2023 NBA regular season continued, and the Lakers challenged the Hawks away. James played for nearly 40 minutes, making 18 of 27 shots, scoring 47 points, 10 rebounds and 9 assists, leading the Lakers to a victory of 130-121. 15 – 21, the Lakers continue to rank 13th in the Western Conference.
Recently, Anthony Davis's frequent injuries have made the Lakers very passive, and the team's record has not improved much. Almost every game depends on James. The game against Hawks coincided with James' 38th birthday. He gave the team a precious victory with his best personal performance this season.
The 2022-2023 season is the 20th season for James to play in the NBA. He still maintains a high attendance rate, and his competitive status has not declined at all. In the previous 35 games, James played 27 times, contributing 27.8 points, 8.1 rebounds and 6 assists per game. Only 2 games scored less than 20 points, 17 points and 19 points respectively. He scored 30+points for 12 times. The highest score of the season was 39 points against the Spurs at the end of November.
Against the Hawks, James showed high offensive efficiency from the beginning, contributing 18 points, 5 rebounds and 8 assists at half court. In the second half of the game, the two teams took the lead alternately, and the game fell into a white hot stage. The 38 year old James kept pounding the opponent's basket, scoring 13 points and 16 points respectively in the third and fourth quarters, and finally led the team to win a thrilling victory.
47 points is James' highest score in a single game this season. After this game, his average score of the season rose to 28.5 points, and he continued to closely follow Enbid, Doncic, Adtokumbo, Curry, Durant, and others, rising to the seventh place in the scoring list. At the same time, James rebounded twice for the seventh time this season, and ranked third in his personal assists for the ninth time this season.
After scoring his highest point in the season, James scored 37860 points in the regular season in his career, which is getting closer and closer to the historical scoring record (38387 points) held by Jabbar. The difference between the two is only 527 points. According to the current scoring efficiency, James needs only 19 games to surpass Kareem Abdul Jabbar, and can reach a milestone in early February 2023 as soon as possible, becoming the NBA's historical scoring king.
Editor Xiao Wanli
(Visited 4 times, 1 visits today)